Courts & Facilities
In Dartmouth we are fortunate enough to have four all-weather tennis courts, two of which are floodlit, and all available for public use on Coronation Park (TQ6 9RR).
The courts are owned and managed by Dartmouth Town Council and can be booked through the LTA's ClubSpark website by annual season ticket holders and casual visitors. The courts are centrally located in the town and provide stunning views of the river.
Toilet facilities are located within a short walk and plenty of cafes and pubs for post-game refreshments.
Parking can be found either at Mayors Avenue Car Park, or the Park and Ride near Sainsbury's or along the embankment.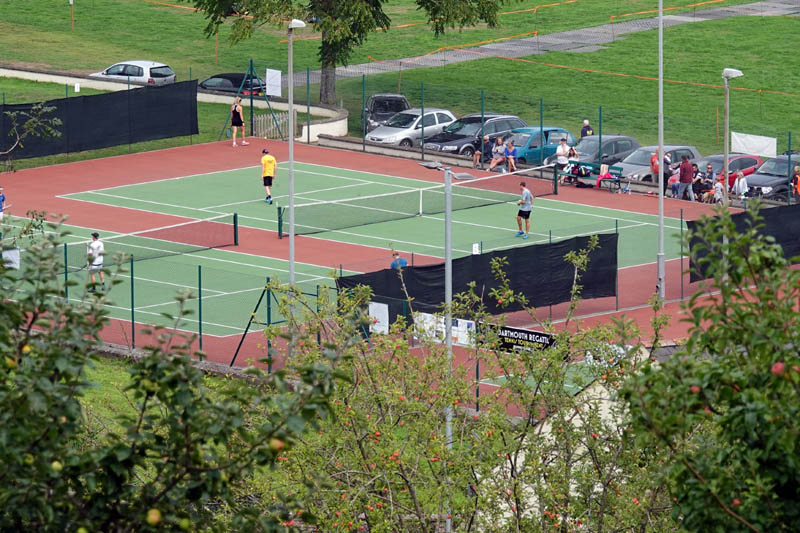 Booking Courts
You can book courts using the ClubSpark website or phone app. In both cases you will need to create an account.
To access the ClubSpark website Click Here
To download ClubSpark Booker on iOS Click Here
To download ClubSpark Booker on Android Click Here
Virtual Club
There is no physical tennis club at Dartmouth but we want to encourage tennis players of all ages and abilities by running various events including the annual competitive Regatta Tennis Tournament which attracts both local players and those from farther afield.
Weekly groups are organised by a number of Group Coordinators, providing the opportunity to play mixed doubles both in the week and weekends. New members are most welcome and social events and smaller tournaments are also regularly planned. Please email us at: dartmouthregattatennis@gmail.com if you need further help or information. If you are new to Dartmouth click this link to see some things to do in Dartmouth
Events for 2023
June 11th - American Tournament for the RNLI
October - Dartmouth Davis Cup - dates and details to come
Previous Events